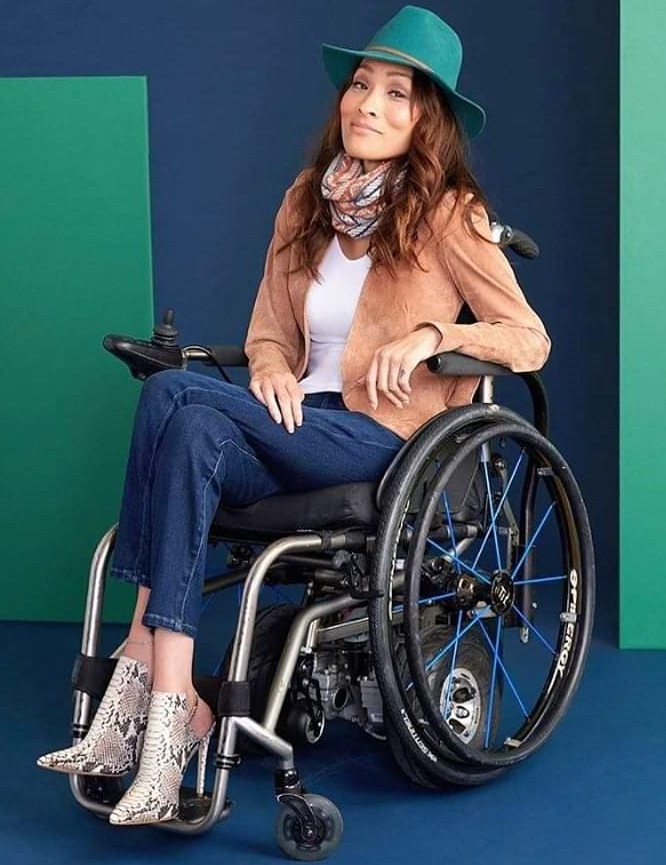 Angela Rockwood is a powerhouse positivity influencer who has been in the entertainment industry for over 25 years. Born in New Mexico, she experienced the world as the child of a career military man before modeling at 17. In 2001 she was launching an acting career with small roles in The Fast and the Furious and the TV series V.I.P. before turmoil struck: on September 3, 2001, a horrific car accident paralyzed her from the neck down, rendering her a C4-C5 quadriplegic.
Believing that her paralysis happened for a reason and that she had a mission to fulfill, Angela picked up her life, focused on her vision, and never looked back. Today she is a model, actress, TV producer, and TV host for World Poker Tour, where she interviews and dives into the soul of champion poker players. She is also a speaker, manifestation life coach, disability advocate, intimate partner violence (IPV) activist, innovator, and entrepreneur.
Angela energized her acting career by landing three national commercials: AARP, Maybelline, and Sony. She is in CinemAbility, a film directed by Jenni Gold, with Ben Affleck, Jamie Foxx, and Jane Seymour. She is currently filming Pen Pals, directed by Marem Hassler, where she plays the lead, Otilia, who is a bisexual sex therapist.
Angela also returned to modeling to prove that "beauty comes in ALL shapes, sizes, color, age, and in EVERY vessel." She serves as a spokesmodel for Spinergy Wheels and she has modeled for Target, Nordstrom, and Zappos.
With her ultimate mission of pushing boundaries, Angela created, produced, and starred in Sundance Channel's Critic's Choice Awards' Best Reality series, Push Girls. She has shared her journey on Larry King Live and in People magazine, and she has shared her message on Ellen, Jeff Probst, Marie Osmond, Access Hollywood, Inside Edition, Good Day LA, Extra, Huffington Post Live, KCAL 9, Katie Couric, Good Morning America, and a return segment on Entertainment Tonight. She even appeared at the White House!
Diligent about creating a shift and breaking stereotypes all over, Angela is passionately relentless in manifesting change and implementing ideas through her classes, teaching "Manifestation" at the Joey Travolta Theatre and one on one. As a speaker, she has successfully spoken about "Pushing the Limits" for Rancho Los Amigos, L.A. Rescue Mission, Edwards Air Force Base, Miss Global, Next Home, and to 3,000 Paul Mitchell Schools' students in Las Vegas, to name a few. She was chosen by Brig. Gen. Michael Brewer of the 412th Test Wing Commander to be the 2015 and 2016 Honorary Commander for Edwards Air Force Base after speaking about resilience.
Deep within Angela's soul she carries this mantra daily: "Life is a gift and what we do with our life is our gift back to the world, to others, and to ourselves."
In this interview by Winn Claybaugh, Angela will leave you in awe. It's one thing for an able-bodied person to share messages of "live your life to the fullest" and "doing what you love, no matter what," but one can't help but perk up and take notice when the message comes from a 20-plus-year quadriplegic. Angela shares what it's like to live fully dependent on a caregiver (which can sometimes include waiting hours for someone to get her out of bed in the morning) and to maintain a busy life as a model, actor, speaker, and philanthropist. Angela's advice for maintaining a high-level bright outlook, cheerfulness, and hopefulness on a consistent basis will surely inspire you.
RELATED LINKS
Instagram: https://www.instagram.com/therealangelarockwood/
Instagram: https://www.instagram.com/therollingempire/
Instagram: https://www.instagram.com/therollinggoddess/
Facebook: https://www.facebook.com/AngelaRockwoodPage/
You Tube Short "Getting ready with Angela": https://www.youtube.com/shorts/zRoWZWl-OF0