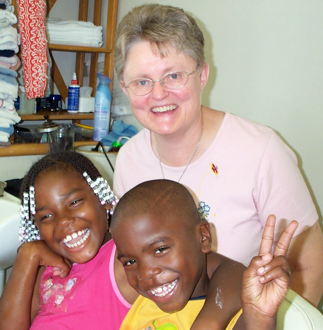 Sister Bonnie Steinlage has been a member of the Franciscan Sisters of the Poor for 50 years. She initially worked in Franciscan hospitals as a nurse and hospital chaplain, but after hearing the Gospel of Ash Wednesday, which says, "When you fast and pray, wash your face and groom your hair," she felt called to provide professional hair care to the poor. In 1986, Sister Bonnie enrolled in the International Academy of Hair Design.
After finishing beauty school, Sister Bonnie worked with the poor and homeless, cutting and styling their hair in the bathroom of a shower house for the homeless. She felt that by assisting their outer appearance, she gave her unique clientele "expression to their inner beauty."
In 1997, Sister Bonnie's one-woman ministry grew into Franciscan Haircuts from the Heart, an organization that provides professional hair care services to the homeless and children of low- and no-income families in the Greater Cincinnati area. With support from local salons, barbershops, and beauty schools, the program continues to benefit participants through enhanced appearance, resulting in higher self-esteem.
Sister Bonnie's work has been featured in numerous publications including Chicago Tribune, Wall Street Journal, People, Women's Day, and Hair & Beauty News. She continues to give presentations to raise awareness of the ministry's benefits to the poor and homeless.
Interviewed by Winn Claybaugh, Sister Bonnie her incredible story and her passion for making a difference.
RELATED LINKS
Website: https://www.franciscanministriesinc.org/haircuts-from-the-heart-.html
In the News: https://www.cincinnati.com/in-depth/news/2021/06/16/st-anthony-center-over-the-rhine-cincinnati/7511561002/