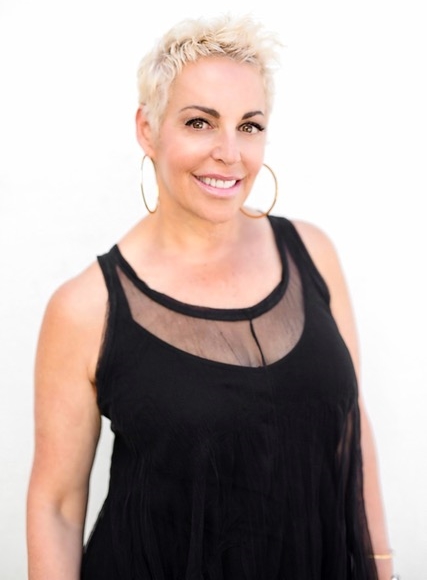 With nearly three decades of salon owner experience, Keri Davis-Duffy has optimized her frontline years as a hairstylist and multi-salon owner in greater San Diego. Long recognized for her business leadership skills, Keri also cultivated the "fashion side" of her 80-member salon team, drawing national industry attention as role-model business leaders and creative trendsetters.
As a world-respected "educators' educator" who trained with the best (Sassoon, John Paul Mitchell Systems, Tigi), Keri is a sought-after speaker at seminars, hair shows, and training functions. She travels extensively to inspire and share her concepts with salon owners, educators, and business leaders.
As an educator for Aveda Business College, Keri was involved in developing many of their programs and systems. Her Aveda Lifestyle Salons exemplify Keri's own applied philosophy of salon management, quality customer service, innovative systems, and growing a targeted list of loyal clients.
Her latest endeavor, Beauty Backbone, aligns beauty and business. With the extensive in-salon training success her salons have achieved, they created a training platform to share with the industry. The first product to launch in early 2017 was Train U, a program for transforming stylists into educators. "It is the exact same format we use in our salons to empower brilliant educators," Keri says. "Learning how to teach is a journey."
Published regularly in the salon industry's national and international media, Gila Rut Aveda Salons have been named six times as one of the Fastest Growing Salons in America (Salon Today), and they received the prestigious Master of Business Award from the North American Hairstyling Awards (NAHA).
Recognized as the #1 Salon in San Diego (San Diego CityBeat's "Best of San Diego 2014 Readers Choice" poll), Keri masterfully balances the business and creative side of salon success by encouraging her design team's ongoing national participation in fashion week in New York, Los Angeles, and in their own local market.
With decades of salon owner experience, Keri has realized many dreams, learned well from her successes and failures, and has never been more at the top of her game. Some might say that Keri has reached her professional pinnacle, but her career path remains future-focused and intent on paying it forward to her team and industry peers.
Interviewed by Winn Claybaugh, Keri has a strong, inspirational, industry-wide reputation due to her message on women in business and her love for the beauty industry. Her numerous awards and acknowledgments result from her passion for teaching business owners how to effectively train their people.
RELATED LINKS
Instagram (@Kerirdavis): https://www.instagram.com/kerirdavis/
Instagram (@beautybackbone): https://www.instagram.com/beautybackbone/
Twitter: https://twitter.com/KeriDavisDuffy1
Facebook: https://www.facebook.com/beautybackbone