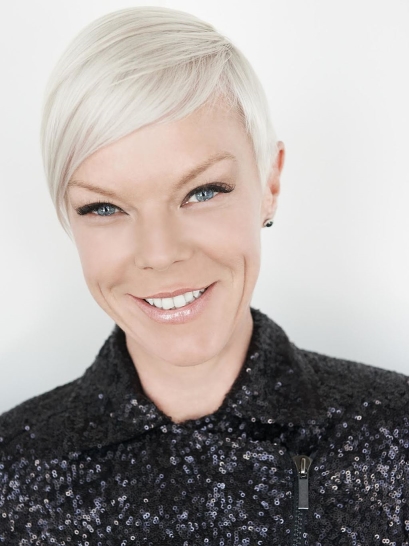 Tabatha Coffey has devoted her entire professional life to achieving excellence in hair design and education. With her signature edgy style, youthful energy, and exceptional skills as an artist and educator, Tabatha is without question the industry's golden girl and a successful producer, author, speaker, coach, and TV star.
Over the last 37 years, Tabatha has worked with a veritable who's who of the industry in Australia, Great Britain, and the United States and has continuously developed, fine-tuned, and broadened her skills as an artist, educator, and business owner. Her resume reads like a biography of a born hairstylist. From the beginning of her career at age 14 in her native Australia, to time spent learning from Vidal Sassoon in London, to her appearance as the "Fan Favorite" on Bravo's hit series, Shear Genius in 2007, Tabatha has been completely devoted to the art of hair. She has been an editorial stylist and contributor for fashion and beauty publications; an award show correspondent for the TV Guide Channel; and an in-demand stylist and salon owner. For 10 years, she represented a globally known hair company as a key member of its artistic team, where she traveled the world to educate stylists and represent the company at hair shows.
For five successful seasons, Tabatha brought her years of hands-on experience to Bravo's hit TV series, Tabatha's Salon Takeover. In each episode, the no-nonsense and smartly styled Coffey transformed the lives and businesses of salon owners across the country. She also produced and starred in Tabatha Takes Over (2008) and Relative Success with Tabatha (2018).
Tabatha released a compelling personal memoir titled, It's Not Really About the Hair: The Honest Truth About Life, Love, and the Business of Beauty, followed by a second book called Own It: Be the Boss of Your Life – At Home and in the Workplace. She is an accredited coach, master NLP practitioner, and certified hypnotherapist.
RELATED LINKS
Website: https://www.tabathacoffey.com
Instagram: https://www.instagram.com/tabathacoffey
Facebook: https://www.facebook.com/officialtabatha
Twitter: https://www.twitter.com/tabathacoffey
Tabatha Coffey @ TEDxStLouis – Why You Need to Be a BITCH: https://apple.co/3d0h2KX